Post by spadulike on Jun 16, 2015 4:53:17 GMT -1
Just a heads up.
The meet will take place at the usual time in the usual place. This year we're supporting the RNLI and Yorkshire air ambulance.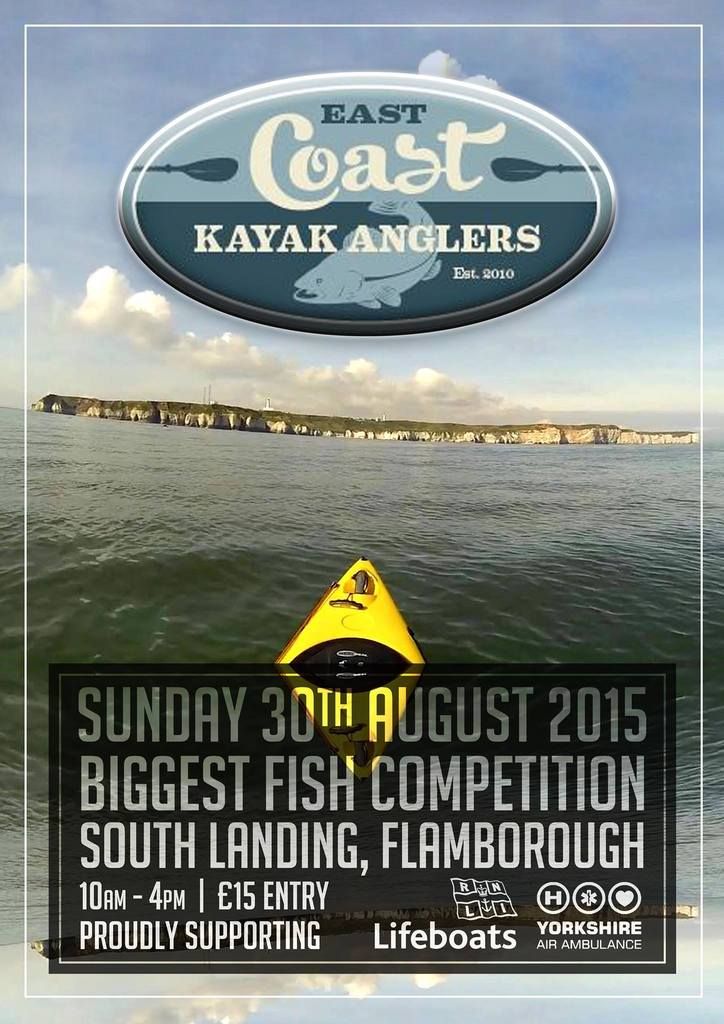 Camping at the Grange campsite Flamborough (01262 850207)
www.thegrangeholidays.co.uk/
and Wold farm (01262 850536)
www.woldfarmcampsite.co.uk/
, this one over looks Bempton cliff, breath taking scenery. Thornwick bay caravan park is worth checking out too.
The rules

£15 entry fee and all the money goes to charity

.
Sunday 30th august, fishing 10 am till 4pm. Last landing 4.10. Biggest fish comp – in the case of draw first to weigh in wins. Placings for the top 10.
Weigh in
– 4.10pm scales down at 5pm. Anglers not in the line by 5pam will not be allowed to weigh in.
Species:
cod, Pollack, coal fish, ling, dab, plaice, turbot, halibut, brill, sole, mullet, whiting, angler fish, conger, pouting, gurnard, bass, bream. No sharks or rays.
Phil Dodds wrasse challenge
– catch and release only, pic to be taken with measure and card.
Flatty comp
, can also be entered into main comp.
Motors and paddles allowed, no sails. H.C.A fish sizes and quotas to be followed.
No cars except for organisers allowed down to landing (disqualification). Parking in the EYRC car park at the top of the hill (no card payments).
One rod, spare maybe taken but not used, three hook limit. Organisers can alter boundaries of the match dependent on weather conditions and safety aspects.
Pairs match – additional £5 fee. Can be entered in main comp.
At least one VHF between two people PFD essential Steward's decision is final.

Prizes kindly donated for charity so far:
Fully rigged Fatyak fishing kayak in dark green.
Fatyak Kaafu caddy from KFS.
Two any fish anywhere lure and bait rods from Jensen.
Assorted shads and lures from Jensen.
Kayak fishing drogue from Kayak UK.
1 years subscription to Sea Angler magazine thanks to Snapper.
Home made shads and jig head set from Neil Hogg, tried and tested.
A set of handmade pollock and bass lures from Smiler lures.
£50 donation from Airco.
Pair of Fox Rage polarized sunglasses in hard case, John Wilson Amberjacks and 8 packs of Tsunami Pro sabikis the fishing basket Hull.
Hats, bags and T shirts from Team RTM's Snapper.
Some vouchers from Icom.
Quantum Smoke one piece spinning rod from Me.
Tope and shark traces from Alain Storey specialist tackle.
Pair of sixth sense polarized sunglasses in a hard case Hull Angling Centre.
Donations from Andrew Board ECKA & team Stealth, Jules Byatt ECKA, Karl Newbold ECKA, Glenn Palmer ECKA, Pete Morph ECKA, Gray Scott ECKA.
Dean Andrew and Pete Carr event logistics.
Safety boat provided by Alain Storey.
More prizes coming in daily and not just from fishing places, rumour has it that a brand new washing machine may be a prize lol.
There will be a raffle too

Maybe see you there